At Pacheco Jiu Jitsu, we pride ourselves on providing each student with the highest quality of Brazilian Jiu Jitsu training to cater for all ages, fitness levels and goals in a friendly and family oriented environment.

Our aim is not only to teach the techniques of the world's most effective and fastest growing martial art but also to put our students on the road to a lifelong learning and positive self confidence. Our handcrafted programs will help you get in shape, release stress and improve your strength and endurance for other sports.

Under the guidance of Diogenes Pacheco, students are treated individually and work on their own level, with the attention required to move forward in training and reach their goals. The more dedication you give it, the more you will get out of it.
DIOGENES PACHECO
BLACK BELT - BRAZILIAN JIU JITSU
THIAGO 'JAPANESE' OKAZIMA
BLACK BELT - BRAZILIAN JIU JITSU
RICHARD 'HICHARD' PARBURY
BLACK BELT - BRAZILIAN JIU JITSU
ZOK 'ZOKINHO' COVIC
BROWN BELT - BRAZILIAN JIU JITSU
BJJ FOR KIDS
Children have a lot to gain from joining our Brazilian Jiu-Jitsu program. It is designed to provide a safe environment for kids to learn self-defense techniques while having fun. With consistent attendance, effort and determination, children can develop their mental, physical and social skills. Through a series of progressive challenges, they learn how to set goals and develop the confidence needed to achieve them. Our BJJ For Kids program promotes the concept of mutual welfare and respect, while helping children to develop discipline and responsibility. It also focuses heavily on skill-building drills to develop body awareness, strength, agility, coordination and flexibility. Consistent training produces better muscle tone, increased energy and enthusiasm for physical activity. All techniques are taught with a "safety first" mentality, allowing students to develop the confidence to apply them properly.
Why Us
The benefits of joining Pacheco Jiu-Jitsu are many, but take a moment to check out some of the advantages of training with us:
We are professionally run by Brazilian Jiu-Jitsu black belt and certified self-defense instructor Diogenes Pacheco.
You will be able to compete with a world-class team
Our programs and training methods are implemented to give you a rock solid martial arts foundation and to suit your individual needs.
All classes are limited to 20 people to allow plenty of practice time and individual attention.
Every member is valued as a part of the Pacheco Jiu-Jitsu family, regardless of their age and fitness level.
Your safety is our main priority and we make sure you gradually progress throughout our program without risking your physical well-being.
We often organize seminars and social events to enhance knowledge and bring our students together.
We offer a 7-Day Free Trial Pass for new students. Friends are welcome to try out!
Brazilian Jiu-Jitsu is a martial art and self-defence system focused on ground fighting. The introduction of Jiu-Jitsu to Brazil is largely credited to Japanese master Mitsuyo Maeda, who immigrated to Brazil in the 1910s and taught the fundamentals of Judo to brothers Carlos and Hélio Gracie.
BJJ promotes the principle that a weaker person can successfully defend against a stronger opponent by using leverage and proper technique. Since its inception, BJJ was separated from older styles of Japanese Jiu-Jitsu by an important difference, which was passed on from its parent art of Judo: it is not solely a martial art, but also a sport, a method for enhancing physical fitness and, ultimately, a lifestyle.
The benefits of BJJ are far-reaching and include increased self-confidence, energy, strength, flexibility and mental capacity. It also reduces stress levels, leads to better focus and helps build character in young people.
Diogenes Pacheco
Diogenes Pacheco is the founder and head instructor of Pacheco Jiu-Jitsu.
A Brazilian Jiu-Jitsu black belt under Master Luiz Guilherme 'Guigo', he is regarded by his students and peers as an outstanding trainer.
Diogenes has over 15 years of Brazilian Jiu-Jitsu training under his belt and numerous titles, both in Australia and in Brazil. He is a BJJ referee and a certified self-defence instructor as well as a coach in 'Ginastica Natural', a combination of stretching and strength-building exercises designed to complement BJJ training.
Mitsuyo Maeda, a Brazilian naturalized as Otávio Maeda, was a Japanese judōka and prizefighter in no holds barred competitions. He was also known as Count Combat or Conde Koma in Spanish and Portuguese, a nickname he picked up in Spain in 1908. 

Wikipedia

Carlos Gracie was the visionary that founded the very first 

Gracie Jiu Jitsu academy

, a martial arts gym Carlos managed with the help of his brothers, 

Oswaldo

, 

Gastão

, 

George

 and 

Helio Gracie

. The group of brothers would break the conventions of what were the accepted fighting styles, challenging fighters from a variety of martial arts backgrounds to advertise themselves and to improve their technical abilities. Carlos Gracie reached the "Decimo Grau" (10th degree in Brazilian Jiu Jitsu) a degree only given to the founders of the gentle art.

Helio Gracie was a 9th degree red belt and arguably the most important figure in 

Brazilian Jiu Jitsu

's history. One of the first Gracie Jiu Jitsu representatives in the 1930's and 1940's he was also the father and master of many fighters who carried the name of his family's trade to martial arts' mainstream in the early 1990's, competitors such as 

Royler

, 

Rickson

 or 

Royce Gracie

. His lineage and legacy are among the strongest in Jiu Jitsu and he is regarded as one of the fathers of the Brazilian grappling art.

Rickson Gracie is regarded by many 

Brazilian jiu jitsu

 figures such as 

Ricardo Arona

, 

Demian Maia

, 

Paulo Filho

 and many others as the 

Greatest BJJ practitioner of all time

, being also the son of Grand Master

 Helio Gracie

 – co founder of Gracie Jiu Jitsu. Through several 

Vale-Tudo

 (No Holds Barred) fights in his native Brazil and in Japan during the 1980 and 1990 decades, Rickson Gracie helped put his family's grappling trade on the map as a legitimate and well known fighting style. Rickson Gracie also became a star in the MMA community after the release of the fantastic documentary "Choke".

Jorge Pereira is a 

Brazilian jiu jitsu coral belt

 (7th degree) who earned his black belt training under 

Rickson Gracie

(1986). Pereira is known as one of the defenders of the Brazilian grappling style in 

vale tudo

 (no holds barred) matches throughout the 1980/90s and 2000s as well as for having built one of the strongest jiu jitsu teams of that era, developing athletes such as Leo Dalla, Otavio "Tatá" Duarte, 

Paulo Guillobel

, Wander Braga or 

Luiz "Guigo"

 to name a few. In 2007 Pereira was the face of a controversial fighting promotion named Rio Heroes, an organization that brought back the old values of NHB to the fight business, screened from some of the most well known slums in Brazil.

Luiz Guilherme, commonly known as "Guigo" is a 

Brazilian jiu jitsu

 black belt under 

Jorge Pereira

 who himself was a well respected student of 

Rickson Gracie

. Guigo was regarded as one of the top ultra heavyweights of his generation, having conquered a world title in 1997. Since then Guigo has become a well respected coach at his gym, the 

Equipe Guigo Jiu Jitsu

 in Sao Paulo – Brazil.
From our people
Great family. That is the way to learn bjj, with discipline and respect, that is the place!
Discipline, hard work and passion!!!! It's bbj used for mind, body, power and resistance. Don't go anywhere to find a place, find who work with heart.
Igor Reis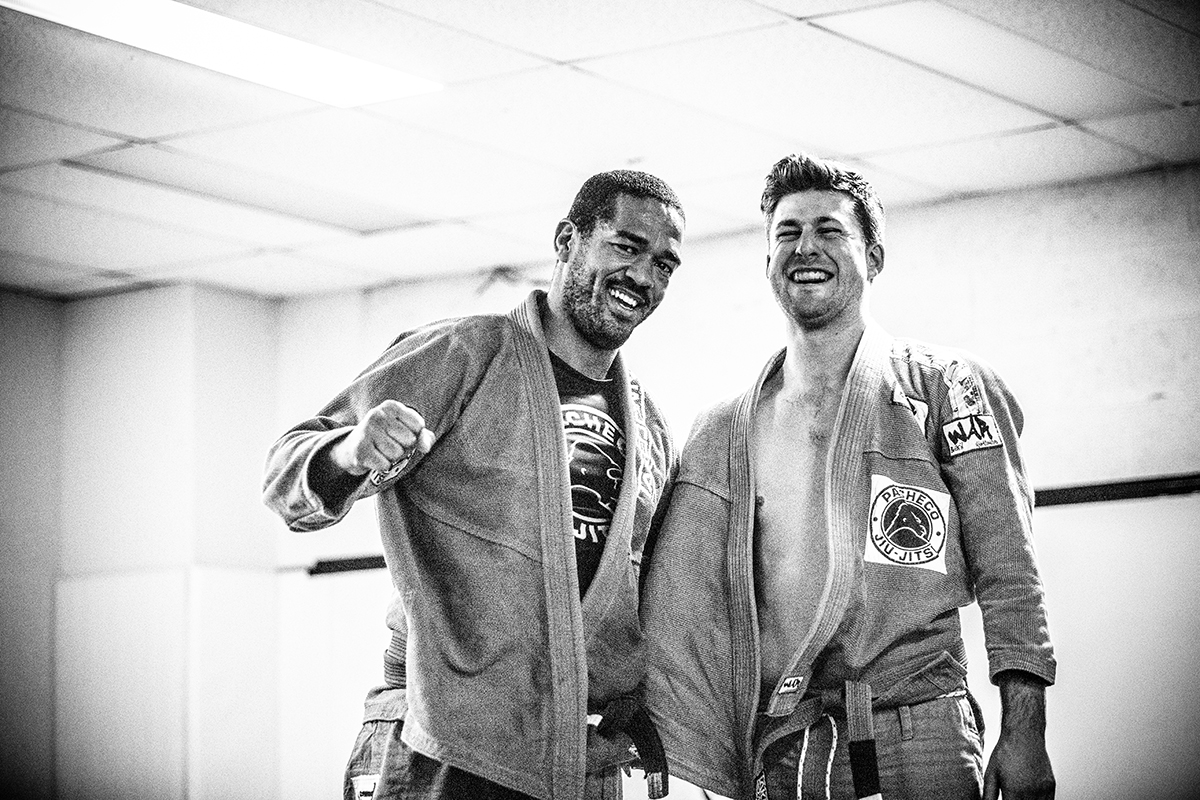 the best people I have met in a lifetime of martial arts training
The coaching staff at Pacheco Jiu-Jitsu are among the best people I have met in a lifetime of martial arts training. I no longer live in Sydney and cannot train with them, but have recommended these guys to friends and clients for years now.
Seth Williams
club that we call family
Best caring and nurturing Brazilian Jiu-jitsu club by far ! Encouraging all students to be the best they can be in life on and off the mats. Teaching amazing quality technique, Respect for one another and help each other . My son is growing up with great values due to this amazing club we call family ❤
Jodie McManus